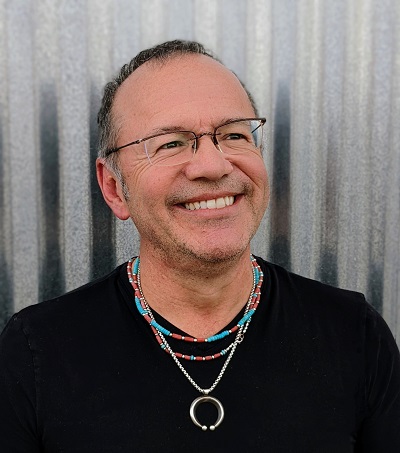 Frank Valdez is the Denver Children's Choir's Principal Accompanist and has been with the organization over 5 years. Originally from Boone, Colorado, Frank started piano at 7 years old and was accompanying by age 10. First taught by his older sister, "The piano was in her room, and I would sit outside her door. I remember begging her for lessons." Going on to study at the University of Southern Colorado, he fostered a natural desire and talent for accompaniment. He later studied at the Aspen Music School and University of Northern Colorado, where he was the Goodbrod Scholar in piano performance.
While Frank was not accepted into Julliard, he did find a life passion. After taking a receptionist job at a hair salon, he fell in love with the atmosphere. "I saw the relationship between the hairdressers and the people and thought that's what I want to do as a career. So, I went right into beauty school. Sitting in a practice room for four hours is so solitary, and I'm such a social person."
Nevertheless, Valdez has kept up the piano, giving recitals, accompanying singers in opera competitions, and performing at AIDS benefits. At one point in his career, he was narrowly selected to perform for an inaugural Van Cliburn Piano Competition in Texas. "It was a big deal, all this media attention, I had NPR calling me. I was on the front page of the Dallas newspaper."
In a 1999 interview from the Denver Post before the competition Frank noted, "I want to play an emotionally dynamic program, but I also want it to be technically as clean as possible, although I'd rather have someone walk away with an artistic and emotional experience than a cold, flat technical performance." Valdez played Bach, Mendelssohn, Chopin and Prokofiev's Sonata No.- 1 from memory. Frank recalls "it was a cutthroat situation, and I wasn't interested in winning. I was interested in a community."
And into the community he went, volunteering for public schools, performing for local communities and getting calls from the Denver Center to perform difficult scores. While continuing to style hair and becoming an avid tennis player, Valdez has raised two adopted children from the foster care system with his partner, Brad. Frank believes that drawing on his parenting experiences has helped him bring more compassion and empathy to every area of his life. We sat down with Frank at the lovely Mint and Serif coffee house for an interview.
What has been your biggest surprise at DCC?
"The level of excellence that we strive for."
What keeps you coming back?
"There is so much room to grow. All the amazing experience accompanying while putting pedagogy into practical application keeps me coming back. And, honestly, I would also have to say that working with youth and children, you have opportunity to advocate for mental health. I know I can be a valuable resource."
What is the most important thing DCC does?
"The DCC makes music fun and enjoyable…. and challenging. There are many ways to do things, and there is an absence of ego here. The aha moment was realizing Lisa has a very musical approach to repertoire and by making it about being about beautiful music and well sung, a lot of the pedagogical components fall into place. The staff at the DCC makes the learning process about listening. It's not about drill and kill it's about making music which is different than simply learning music."
How does DCC create an inclusive environment?
"We are authentic, you can't fabricate inclusivity, it has to be genuine. We bring all of our experiences to the table. All of our experiences as parents, artists, community members help us to understand people. There is an openness in the level of communication and that freedom is a shared value. Inclusivity is built into the fabric at DCC. It is imperative to meet children where they are at – musically and emotionally."
Why is inclusivity so important?
"Young people don't necessarily listen to anything you say but observe everything you do."
What makes Frank, Frank?
"Adopting two kids from foster care system, has made me a more compassionate person. It's been a humbling experience, for sure. I've never been in the spotlight but have been in the periphery, and no matter how talented you are there's always someone out there that is more talented. After having the amazing opportunities and experiences I've had, now, I don't feel the need to flex. I had to draw upon my experiences to be well prepared to be stand into this moment, as insular as it was for me. I love collaborating with other musicians and when there's a lot of moving parts. I have to be at the ready to make mistakes seem seamless and I enjoy that. I'm just a dad who has a lot of experiences as an accompanist."
Frank has been with his partner Brad for 20 years. They live in Denver with their two sons, Tristian age 16 and Justice age 19, along with two dogs and a cat – "down from hundreds of chameleons." While balancing his professional endeavors, Frank enjoys cooking, playing tennis and becoming an amateur barista.
Favorite DCC memory
"When my son sang for Mountain Aires and seeing him perform at Trinity Methodist Church and The University of Denver. I remember thinking this is his first concert venue and look where it is!"
Favorite Ice cream
"Pistachio"
Favorite vacation spot
"Anywhere my family is"
Favorite performance attended
"My sons' musicals at St. Anne's"
Favorite meal to cook
"Pasta Alfredo"
Favorite meal to eat
"Anything anyone else cooks"
---