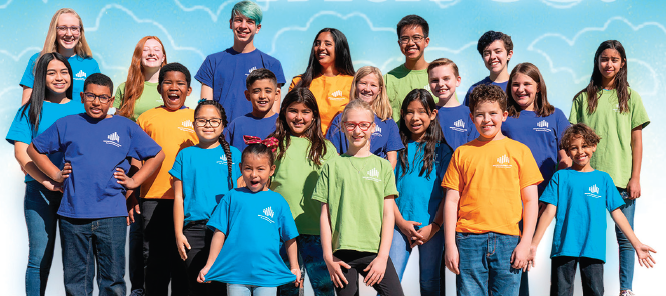 Thanks for your interest in our organization!  We welcome children to join our program for the upcoming 2023-2024 season. Please complete the form below to arrange an audition time. There is a place for every child in our program and financial assistance is available.  Our screening process will help us find the best choral ensemble, from our many ability levels, for your child. 
¡Gracias por su interés en nuestra organización! Damos la bienvenida a los niños a unirse a nuestro programa para la próxima temporada 2023-2024. Complete el siguiente formulario para programar una hora de audición. Hay un lugar para cada niño en nuestro programa y hay asistencia financiera disponible. Nuestro proceso de selección nos ayudará a encontrar el mejor conjunto coral, de nuestros muchos niveles de habilidad, para su hijo.
DENVER CHILDREN'S CHOIR ENSEMBLES:
Neighborhood Choir Program:
Timberline: beginning training choir
Alpine: intermediate training choir
Summit: experienced treble singers
Premier Choir Program:
Fourteeners: mature SSAA advanced ensemble
Mountain Aires: mature TTBB advanced ensemble
Altitude: mature SATB advanced ensemble. Altitude members are also members of either Fourteeners or Mountain Aires and attend rehearsals for both ensembles.
2023-2024 PROGRAM SCHEDULE (subject to change):
Fourteeners and Mountain Aires: Tuesdays 6-8:30 pm @FMC
Altitude: Sundays 1:30-4:00 Park Hill home
Summit Singers: Thursdays 6:15-8:00 pm @FMC
Alpine: Tuesdays 3:50-5:05 @BW
Alpine: Wednesdays 6:00-7:15 @PHUMC
Alpine: Thursdays 4:15-5:30 @Hamilton
Timberline: Tuesdays 4:10-5:10 @Dora Moore
Timberline: Wednesdays 3:00-4:00 @DCIS FORD
Timberline: Wednesdays 3:45-4:45 @BC
Timberline: Wednesdays 5:30-6:30 @PHUMC
The DCC offers several locations for the Timberline and Alpine ensembles. You will be able to choose the location that is the most convenient for your family.
El DCC ofrece tres ubicaciones para los conjuntos Timberline y Alpine. Podrá inscribirse en la ubicación que sea más conveniente para su familia.
LOCATIONS:
FMC – First Mennonite Church, 430 W. 9th Ave., near 8th & Speer, Central
Dora Moore – Dora Moore ECE-8 School, 846 Corona St., Central
BC – Beach Court Elementary, 4950 Beach Court, near I-70 & Zuni, Northwest
BW – Bryant Webster Dual Language ECE-8, 3635 Quivas St., near 38th & Pecos, Northwest
DCIS Ford – DCIS Ford Elementary, 14500 Maxwell Pl, near 56th & Chambers in Montbello, Northeast
PHUMC – Park Hill United Methodist Church, 5209 Montview Blvd., Park Hill, Northeast
Hamilton – Hamilton Middle School, 8600 E. Dartmouth Ave., near Hampden & Yosemite, Southeast
"The only thing better than singing is more singing." Ella Fitzgerald