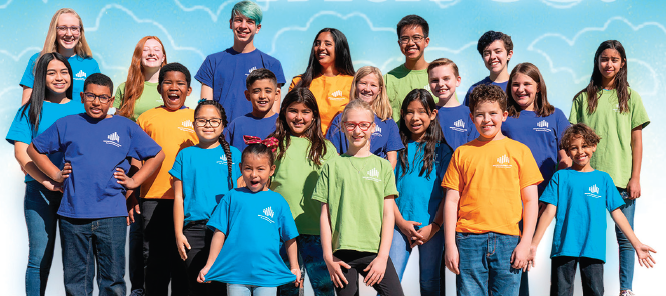 Thanks for your interest in our organization!  We welcome children to join our program for the upcoming 2023-2024 season. Auditions will be held on Wednesday, May 17 from 4:30-6:00pm at First Mennonite Church (430 W. 9th Ave). Please complete the form below to arrange an audition time. There is a place for every child in our program and financial assistance is available.  Our screening process will help us find the best choral ensemble, from our many ability levels, for your child. 
¡Gracias por su interés en nuestra organización! Damos la bienvenida a los niños a unirse a nuestro programa para la próxima temporada 2023-2024. Complete el siguiente formulario para programar una hora de audición. Hay un lugar para cada niño en nuestro programa y hay asistencia financiera disponible. Nuestro proceso de selección nos ayudará a encontrar el mejor conjunto coral, de nuestros muchos niveles de habilidad, para su hijo.
Already been placed in a choir? Click here to register! Refer to your email for the MYDCC password or contact Mary here.
¿Ya ha sido colocado en un coro? ¡Pulse aquí para registrarse! Consulte su correo electrónico para obtener la contraseña de MYDCC o comuníquese con Mary aquí.
DCC Ensembles:
Timberline: beginning training choir
Alpine: intermediate training choir
Summit: experienced treble singers
Fourteeners: mature SSAA advanced ensemble
Mountain Aires: mature TTBB advanced ensemble
Altitude: mature SATB advanced ensemble. Altitude members are also members of either Fourteeners or Mountain Aires and attend rehearsals for both ensembles.
The 2023-2024 Rehearsal Schedule will be posted as soon as it is finalized.
Rehearsal Schedule for the 2022-2023 season:
Premier Choir Program
Central Denver – TUESDAYS at First Mennonite Church, 430 W. 9th Ave., Denver
Fourteeners rehearsal 6:00 – 8:15 pm
Mountain Aires rehearsal 6:00 – 8:15 pm
NE Denver – SUNDAYS at private home in Park Hill
Altitude – rehearsal 3:00-5:30 pm (in addition to the Fourteeners/Mountain Aires Tuesday-rehearsal time 6:25-8:15 for Altitude members)
Neighborhood Choir Program
The DCC offers several locations for the Timberline and Alpine ensembles. You will be able to sign up for the location that is the most convenient for your family.
El DCC ofrece tres ubicaciones para los conjuntos Timberline y Alpine. Podrá inscribirse en la ubicación que sea más conveniente para su familia.
NE Denver – WEDNESDAYS at Park Hill United Methodist Church, 5209 Montview Blvd, Denver
Timberline/Alpine combined rehearsal – 5:00-6:00 pm
Summit rehearsal – 6:00-7:45 pm
NW Denver – THURSDAYS at Beach Court Elementary, 4950 Beach Ct., Denver
Timberline/Alpine combined rehearsal – 3:45-4:45 pm
Central Denver – THURSDAYS at First Mennonite Church, 430 W. 9th Ave., Denver
Timberline/Alpine combined rehearsal – 5:15-6:15 pm
Summit rehearsal – 6:00-7:45 pm
Links to more information:
"The only thing better than singing is more singing." Ella Fitzgerald